Labour Market Fragilities, 3Q GDP And Economic Headwinds
Following the publication of the 3Q21 Quarterly Labour Force Survey (QLFS) results and our initial take on it, we dive deeper into the data to unpack the extent of the ongoing labour market weaknesses. In 3Q21 the official unemployment rate of 34.9% and the expanded unemployment rate of 4.6% indicate profound structural economic weaknesses.
Despite the statistical challenge that Stats SA encountered during the survey related to the collection mode and incomplete sample-based estimates, the fact that employment declined in 3Q21 was expected due to the social unrest in July and level 4 lockdown restrictions. The QLFS data clearly shows that a combined 50% of the 660 000 job losses were from KwaZulu-Natal and Gauteng, the two provinces that were directly and primarily affected by the social unrest. This made the 660 000 quarterly job decline in 3Q21 the second deepest since 2008; the first was the 2.2 million decline in 2Q20, and the third deepest was the 527 000 in 3Q09, during the global financial crisis.
Worryingly, formal (non-agricultural) sector employment declined by 571 000, larger than the 290 000 quarterly decline in 3Q09 but better than the 1.2 million quarterly decline in 2Q20. The pandemic and the social unrest have effectively taken formal (non-agricultural) sector employment to a level last seen in 1Q10. Compared to 4Q19 formal employment is lower by 1.7 million. Even the informal (non-agricultural) employment gains have been insufficient to compensate for the enormous formal employment losses. This is arguably and partly due to the prevailing pandemic uncertainty, over and above the usual challenges of starting a business, preventing people from using their retrenchment packages to start small informal businesses.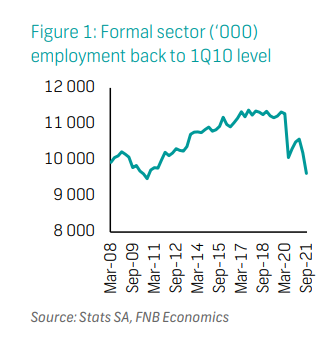 Looking at employment by type of occupation, the largest cumulative job losses compared to 4Q19 have been among the sales and services workers (-589 000), craft and related trade workers (-382 000), clerks (-322 000), elementary workers (-228 000) and technicians (-166 000). Combined, these types of jobs account for about 70% of total employment, and arguably with limited access to tools of trade to facilitate working from home. These jobs are highly vulnerable to business cycle downturns and shocks such as the ongoing pandemic. The recent resurgence in infections from the Omicron variant could have further negative implications for these jobs, particularly if stringent lockdowns are reintroduced. It could put additional pressure on the government through the R350 SRD grants to assist economically vulnerable households. Notwithstanding the swift recovery in labour income, the QLFS data revealed that a marginal proportion of workers still received reduced salaries during the lockdown in 3Q21.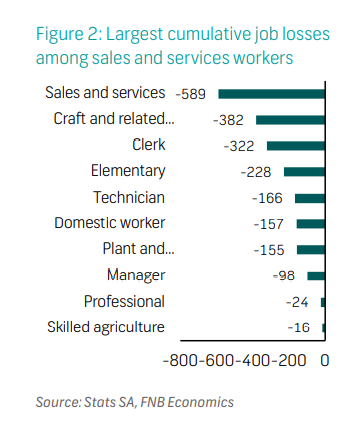 3Q GDP lost ground
The dire employment outcomes and poor performance of the high-frequency supply-side data corroborate our longstanding view that the economy lost ground in 3Q21. The 3Q21 GDP will be released next Tuesday. We expect seasonally adjusted real GDP to have contracted by 0.8% q/q, reflecting the profound impact of the unrest and level 4 lockdown restrictions on the manufacturing, transportation, and trade sectors. The agricultural sector likely continued supporting the economy amid favourable weather conditions and increased production. The Transnet cyberattack and administrative delays likely impacted exports at major ports, which broadly operated below capacity in 3Q21. The latest Agbiz agricultural business confidence survey results show that confidence picked up in 4Q21 after slightly retreating in 3Q21.
Near-term headwinds
Overall, there is a myriad of headwinds facing the labour market and the general economic performance. These include the latest Covid-19 resurgence from the Omicron variant, unreliable electricity supply, rising prices (including fuel prices) that have potentially reduced consumers' purchasing power, and the ongoing shortage of critical raw and other input materials. The recent interest rate hike and its projected path imply that the extreme benefits from historically low interest rates are waning.
Weekly highlights
Covid-19 update: SA enters fourth wave and stricter lockdown restrictions may follow
The National Institute for Communicable Diseases has indicated that South Africa is entering its fourth wave of Covid-19 infections. Cases increased to 11 535 on 2 December, with a positivity rate of 22.4%. Gauteng is currently the epicentre, and accounts for 72% of new cases. As the festive season approaches, and the customary inter-provincial travel begins, infections will likely spread to other provinces too. The seven-day moving average of local infections stood at 5 093, reflecting a 389.47% w/w increase. On 28 November the president announced that lockdown restrictions would remain at alert level 1 and he would provide an update in a week. With the positivity rate in double digits and hospitalisations rising, it is conceivable that lockdown restrictions could soon be strengthened to curb the spread of infections. This, along with international travel bans imposed on South Africa, could dampen the economic recovery, especially in tourism and related industries. This comes at a time when monetary policy has started moving towards building policy space and fiscal policy's parameters are thinner than usual, following last year's crisis-related accommodation. For emerging economies, a slowdown in economic activity poses a considerable risk to recovery. Meanwhile, vaccinations (still regarded as an important weapon in fighting the virus) remain at low rates.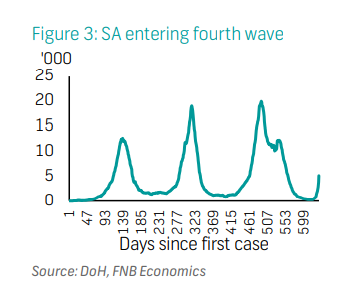 Globally 8.07 billion vaccine doses have been administered – 33.05 million each day. While 54.6% of the world's population having received at least one dose of a Covid-19 vaccine, only 6.0% of people in low-income countries have received at least one dose.
According to the Department of Health, 16.94 million people have been vaccinated, representing 42.58% of the adult South African population. The momentum of vaccinations remains lacklustre and has not come close to its peak of 0.4 vaccines administered per 100 people on 29 August. After recently dropping to 0.15 per 100 people on 27 November, the momentum has improved slightly to 0.19 per 100 people on 1 December.
Private sector credit extension remained mixed in October
Total private sector credit extension slowed in October, recording 1.3% y/y, down from 1.6% y/y in September. Household credit growth improved marginally to 5.5% y/y, from 5.4% y/y previously, supported by higher growth in instalment sale credit (predominantly vehicle finance) and some unsecured credit components (general loans and credit cards), while mortgage growth remained robust at 7.4% y/y. On the contrary, credit extended to corporates continued to contract, recording -2.0% y/y from -1.5% (revised from 1.4%) previously. General loans and advances, which forms the biggest share of corporate credit, declined by 4.6% y/y, from 3.5% previously.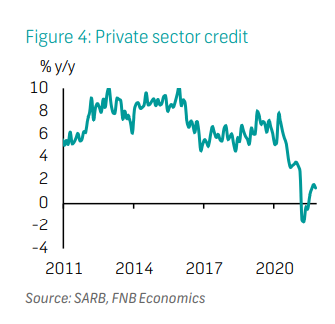 Growth in mortgage advances (by corporates) slowed further, from a peak of 10.3% y/y in April 2020 to 2.8% in September and 2.4% in the latest data. The continued decline in corporate credit demand reflects heightened uncertainty, which will likely be exacerbated by the Omicron variant. In addition, we also note that the sectors that benefited from high commodity prices (mining and associated value chain) have used the windfall to reduce their debt burdens.
Building confidence marginally lower in 4Q21
The FNB/BER Building Confidence Index declined slightly to 34 index points in 4Q21, from 35 in 3Q21, still reflecting that most respondents across the building sector pipeline are dissatisfied with prevailing business conditions. However, significant improvement in sentiment was noted in the "core" building sector, up to 27 index points from 20 previously – the best level since 2Q19. This improvement reflected a moderation in tendering competition which allows for improved profitability. In addition, there was a lift in activity for main building contractors as well as architects and quantity surveyors. This is in line with the rebuilding activity following the unrest in July and could therefore be short-lived. Overall, while activity has improved, lack of high-value projects and delays in awarding tenders remain important factors weighing on sentiment. The composite index was pulled down by sentiments in the building material manufacturing sector, which more than halved to 21 from 55 previously, driven by lower domestic production and export demand as well as higher input costs.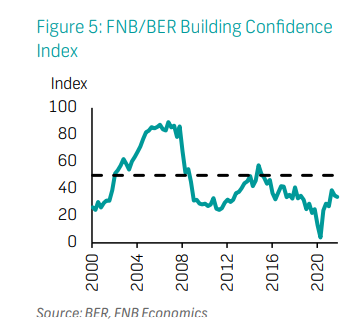 Unemployment worsened in 3Q21
As measured by Stats SA's household-based Quarterly Labour Force Survey (QLFS), the official unemployment rate (not seasonally adjusted) increased to 34.9% in 3Q21 from 34.4% in 2Q21. The level of unemployment decreased by 183 548 q/q to 7.6 million, but increased by 17.0% (1.1 million) y/y. Since 1Q08 the unemployment level has increased by a cumulative 75%. Total employment fell by 4.4% (659 566) q/q in 3Q21 to 14.3 million and was 2.8% (408 862) lower than the same quarter in 2020. Compared to 3Q19 the employment level is 12.8% (2.1 million) lower. The drop in employment primarily reflected the impact of the social unrest and Delta variant related lockdown restrictions.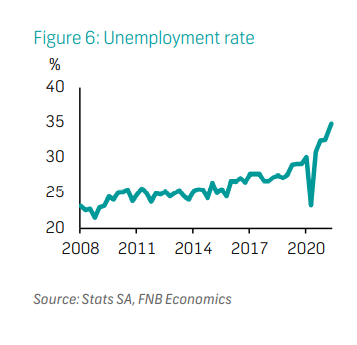 At 30.5% in 3Q21, compared to 35.3% in 4Q19, the Prime-Age Employment-toPopulation Ratio remains worryingly depressed, indicating the significant ongoing slack in the labour market and structural economic weakness. The number of discouraged work-seekers rose by 16.4% q/q (43.3% y/y) to 3.9 million, while the "other", not economically active population, rose by 3.3% q/q (but declined by 8.5% y/y) to 41.0 million. As a result, the expanded unemployment rate remained elevated and increased further to 46.6% from 44.4% in 2Q21.
Trade balance narrowed further in October
In October the nominal trade surplus (not seasonally adjusted) amounted to R19.78 billion, reflecting a monthly moderation from the R22.1 billion surplus in September. The cumulative trade surplus amounted to R369.77 billion between January and October this year compared to R202.82 billion in the corresponding period last year and R3.27 billion in 2019. The sustained trade surplus reflects elevated commodity prices that have benefited export earnings and, to some extent, subdued domestic demand that has limited import values. The monthly trade surplus reflected export values of R147.92 billion, while import values measured R128.14 billion, and import values are gradually, though unevenly, catching up with export values. Nevertheless, exports are up by 32.4% YTD compared to the corresponding period in 2020 and up by 39.1% compared to the same period in 2019. The relatively strong export performance has been driven by the strong performance of the precious metals and stones category, mineral products, basic metals, vehicles and transport equipment, and machinery and mechanical appliances. Imports excluding mineral products are up by 18.8% YTD, while mineral product imports are up by 37.2% YTD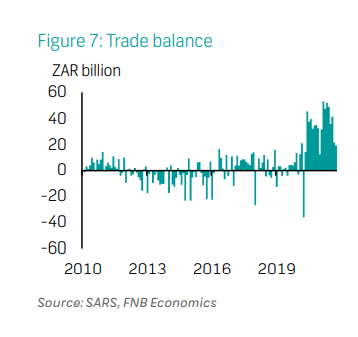 PMI climbed in November
The manufacturing PMI recorded 57.2 index points in November, up from 53.6 in October and 54.7 in September. The QTD average with October and November data is 55.4 index points, up from 51.5 in 3Q21, and reflects some recovery in manufacturing from the third wave of Covid-19 infections and the July unrest. Business activity and new sales orders lifted in November, both to around 54 index points, an improvement from the period with the strike in the steel and engineering sector and despite bouts of load-shedding. Purchasing prices remained elevated at 86.7 index points and found renewed pressure from shipping costs. Supply delivery times also remain elevated, reflecting global supply bottlenecks. Inventories lifted to 57.2 index points, likely in line with a ramp-up in production ahead of the festive break and building a stock reserve amid global supply constraints. Expected business conditions are weighed on by the new wave of infections and tighter monetary policy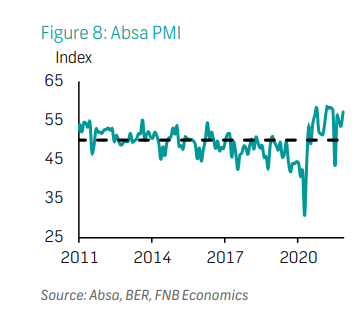 New vehicle sales remained resilient in November
Domestic new vehicle sales grew by 1.3% m/m and recorded growth of 6.6% y/y, up from 6.1% previously. Exports declined further on an annual basis, contracting by 42.2%, but still reflected growth of 8.3% YTD (January to November) when compared to the same period in 2020. The new passenger car market grew by 9.4% y/y, supported by the car rental industry which accounted for nearly 16% of sales. The medium and heavy truck segments also performed well but the sale of light commercial vehicles, bakkies and minibuses declined. Going forward, the global spread of the Omicron variant and its impact on export demand and local tourism, as well as elevated fuel prices and rising interest rates, could dampen demand for new vehicles.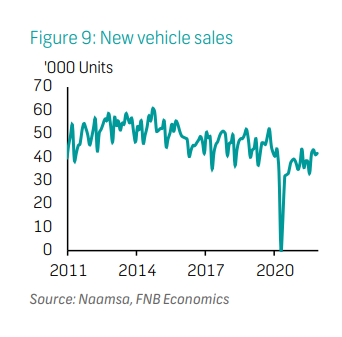 Electricity generated and available for distribution slowed in October
After showing no growth in September, electricity production (not seasonally adjusted) contracted by 3.4% y/y, starting the quarter on a weak footing. On a seasonally adjusted basis, electricity production declined by 3.8% m/m, following a contraction of 0.5% (revised from -0.2%) in the month prior. Electricity consumption also slowed by 3.6% y/y, from growth of 0.1% previously. Seasonally adjusted consumption was down 4.2% m/m following a contraction of 0.9% m/m (revised from -0.8%) in September. Considering the coming month, the reported inefficiencies at Eskom plants likely weighed on electricity generation and the risk of further unplanned outages remains elevated.
Week ahead
The FNB/BER Civil Confidence Index for 4Q21 will be published on Monday. Civil confidence recorded an increase of 4 index points but remained at a low 17 in 3Q21. Most underlying indicators worsened with the slowdown in activity, profitability and persistently weak order books being the main themes. More than 80% of respondents were dissatisfied with prevailing business conditions. The civil construction sector relies heavily on the embattled public sector, but the recent gazetting of the amendments to schedule 2 of the Energy Regulation Act, further progress towards developing renewable energy projects through the IPP programme and the draft version of the National Infrastructure Plan will be important for the sector. However, delays will further impede an improvement in sentiment.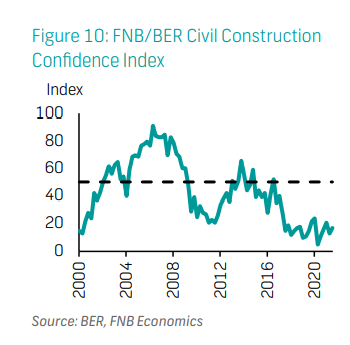 The latest GDP growth data for 3Q21 will be published on Tuesday. Preliminary GDP growth for 2Q21 was 1.2% q/q (from 1.0% q/q in 1Q21). Real GDP (not seasonally adjusted) grew by 19.3% y/y but the level of real GDP is still down by 0.7% compared to the non-pandemic 2Q19 level, reflecting continued and entrenched economic slack. As measured from the expenditure side, growth was led by real export growth. Private household consumption expenditure (HCE) also grew strongly, reflecting compensation of employees (labour income) growth. At R6.2 trillion, nominal GDP reflected an increase of 4.3% q/q and the GDP deflator index grew by 3.1% q/q (7.5% y/y), reflecting elevated terms of trade from higher commodity prices.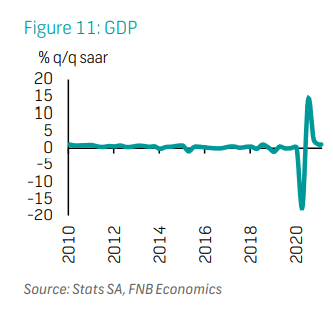 On Wednesday the retail sales for October will be published. Following an unexpected decline of 1.5% y/y in August, retail sales volumes rebounded by 2.1% y/y in September. Seasonally adjusted volumes gained 5.1% m/m, after recording an incomplete recovery of 4.9% m/m in August, following a deep riot-induced 11.2% decline in July. Year-to-date volume sales are 8.0% higher compared to the same period in 2020, but still 1.4% below 2019 levels. Factors such as the improved rollout of income support grants, an improvement in consumption credit uptake (credit cards and general loans), the better-than-expected civil wage agreement and the swift recovery in non-labour income should support retail sales volumes going into the festive season. However, these must be weighed against elevated transportation costs, still depressed consumer sentiment, slow readjustments in the labour market and possibly a less supportive interest rate environment.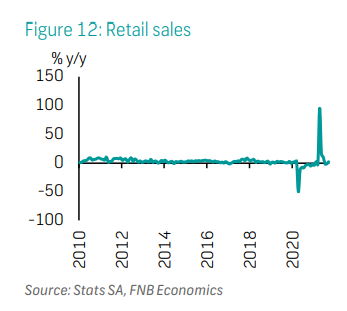 Data on the current account for 3Q21 will be published on Thursday. The current account, seasonally adjusted and annualised, reached a record surplus of R343 billion in 2Q21, up from R261 billion in 1Q21. As a percentage of GDP, the current account now stands at 5.6%, from 4.3% previously. Driving the current account surplus was the trade balance on goods, which posted a surplus of R614 billion in 2Q21, up from R451 billion in 1Q21. Export prices increased by 7.3% q/q while volumes grew by 4.0% q/q, and import values increased by 2.8% q/q while volumes increased by 0.4% q/q. As a percentage of GDP, the trade balance on goods was 10.0%, up from 7.5% previously. The services, income and current transfer account (SIT) recorded a deficit of R271 billion, from a R190 billion deficit previously, which translated into -4.4% of GDP (from -3.2% in the first quarter). This was explained by a large shortfall in primary income of R169 billion (-R63 billion previously), services recording a lower shortfall of R66 billion (from -R72 billion), and current transfers recording -R36 billion (from -R55 billion).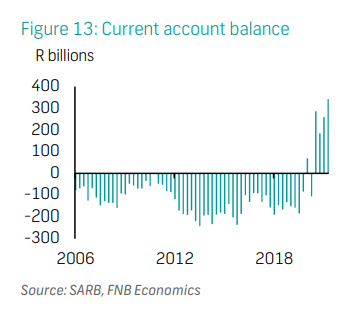 Data on mining production for October will also be published on Thursday. Total mining output (not seasonally adjusted) contracted by 3.4% y/y in September, reflecting a moderation from growth of 0.7% y/y in August, and 10.3% y/y in July. Disappointingly, seasonally adjusted mining output, which aligns with the official quarterly real GDP growth calculation, declined by 3.7% m/m following a decline of 2.0% m/m in August. Year-to-date (January to August) mining output posted growth of 13.5% compared to the corresponding period last year but has lost its edge over 2019 as it is 0.3% lower when compared to the same time in 2019.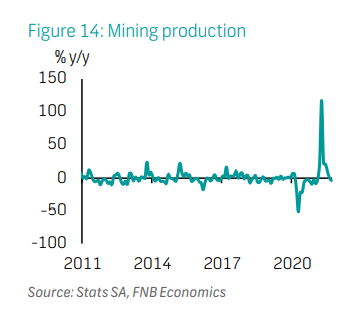 Also on Thursday, data on manufacturing production for October will be published. Total manufacturing output (not seasonally adjusted) increased by 1.3% y/y in September, from 1.9% y/y in August, after contracting by 4.7% y/y in July. Growth in the seasonally adjusted manufacturing output increased by 3.8% m/m in September, after rebounding by 7.1% m/m in August. Manufacturing slowed in the third quarter, contracting by 3.9% relative to 2Q21, reflecting the impact of the third wave and the civil unrest. Manufacturing output was up by 10.7% YTD (January to August) compared to last year's corresponding period but down by 6.5% compared to 2019, reflecting a gradual but incomplete recovery. Load-shedding, the recent steel and engineering strike that affected activity and the fourth wave of Covid-19 infections imply that monthly growth in manufacturing output could moderate going into the final quarter of the year but could be mitigated by improved production activity as shown by the recent PMI readings.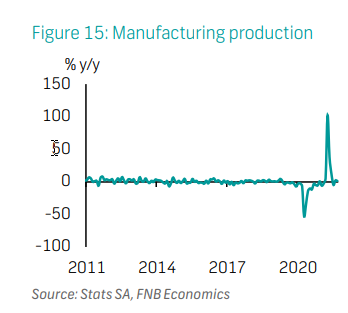 Comment Guidelines
We encourage you to use comments to engage with users, share your perspective and ask questions of authors and each other. However, in order to maintain the high level of discourse we've all come to value and expect, please keep the following criteria in mind:
Enrich

the conversation

Stay focused and on track.

Only post material that's relevant to the topic being discussed.

Be respectful.

Even negative opinions can be framed positively and diplomatically.

Use standard writing style.

Include punctuation and upper and lower cases.

NOTE

: Spam and/or promotional messages and links within a comment will be removed

Avoid profanity, slander or personal attacks

directed at an author or another user.
Don't Monopolize the Conversation. We appreciate passion and conviction, but we also believe strongly in giving everyone a chance to air their thoughts. Therefore, in addition to civil interaction, we expect commenters to offer their opinions succinctly and thoughtfully, but not so repeatedly that others are annoyed or offended. If we receive complaints about individuals who take over a thread or forum, we reserve the right to ban them from the site, without recourse.
Only English comments will be allowed.
Perpetrators of spam or abuse will be deleted from the site and prohibited from future registration at Investing.com's discretion.